Introducing the adaptive
SCRUM Fundamentals Course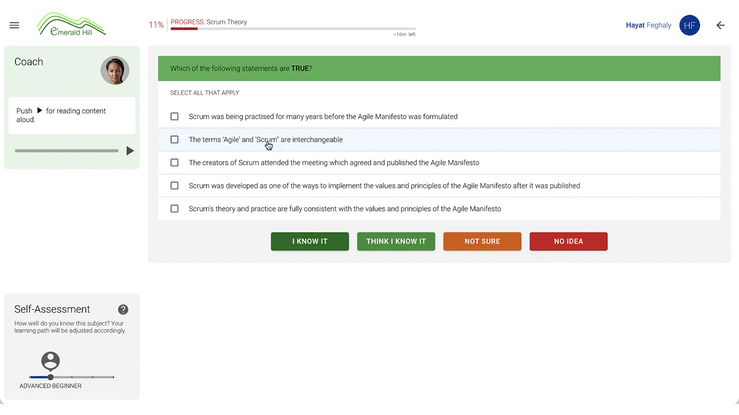 Developed in collaboration with Emerald Hill Limited, this four-module course is designed for individuals or organizations looking to scale their Agile learning and develop their Scrum framework.
Using the adaptive technology of Area9 Rhapsode™, learners can kickstart their Agile and SCRUM journey to achieving their business or professional goals.
---
Area9 Lyceum
Our approach is grounded in scientific research and twenty five years' experience, serving millions of learners, gathering billions of data points, across hundreds of subjects.
We believe that technology is only powerful when designed to work for and with people; it is not an end in itself. Teachers, mentors and learners are not going to be replaced by technology – they are going to be complemented and accelerated. We are passionate about people fulfilling their potential.
Whether you are an educator, corporation or content publisher, Area9 Lyceum can help enable an interactive learning experience through a range of tools and services – making your content exceptionally agile, relevant and actionable for any learner.
---
Emerald Hill Limited
Emerald Hill Limited provides organizations and development teams with the support they need to develop innovative solutions and accelerate delivery of business value. Their expert consultants and Scrum professionals can definitely give your business a boost. Whether you require an Agile Assessment or Scrum Training, they are here to help you with a wide range of learning solutions.