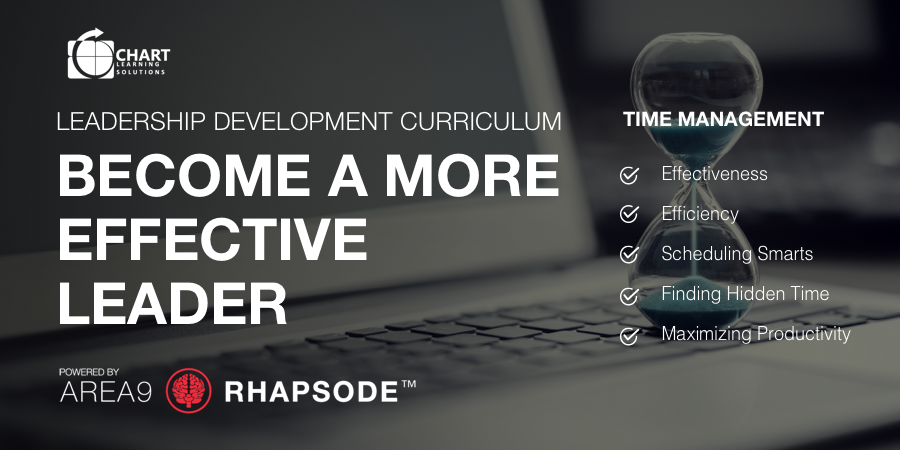 Area9 Lyceum is committed to helping people reach their full potential. Our adaptive learning technology is grounded in scientific research and twenty-five years' experience; serving over 30 million learners across hundreds of subject areas, gathering billions of data points.
Experience adaptive learning for yourself! Complete the form below to be instantly redirected to Area9 Rhapsode™ where you will have access to the first course from the Leadership Development Curriculum, Time Management, developed in collaboration with Chart Learning Solutions.
In this course you will learn:
Effectiveness: Know the difference between effective and efficient, apply the three stages of managing time, write result-driven mission statements, set SMART goals, prioritize tasks, and manage multiple "A" priorities
Efficiency: Utilize six criteria for increased efficiency, apply guidelines for streamlining paperwork, and eliminate the 10 biggest time wasters in business
Scheduling Smarts: Implement guidelines for scheduling SMART goals and activities to maximize your effectiveness and efficiency, schedule recurring activities, record and track progress using your natural energy cycles
Finding Hidden Time: Apply shortcuts to save time, know how to make the most of downtime, make a game out of saving time, create chunks of time, and use the power of leverage to reduce effort
Maximizing Productivity: Know how to avoid procrastination, apply guidelines for delegation, get more done in less time, implement tips on balancing home and career
Interested in learning more about:
Sharing this and other adaptive courses with your team...

Additional language translation options for this and other courses...

What Learning Management System (LMS) integration is available...