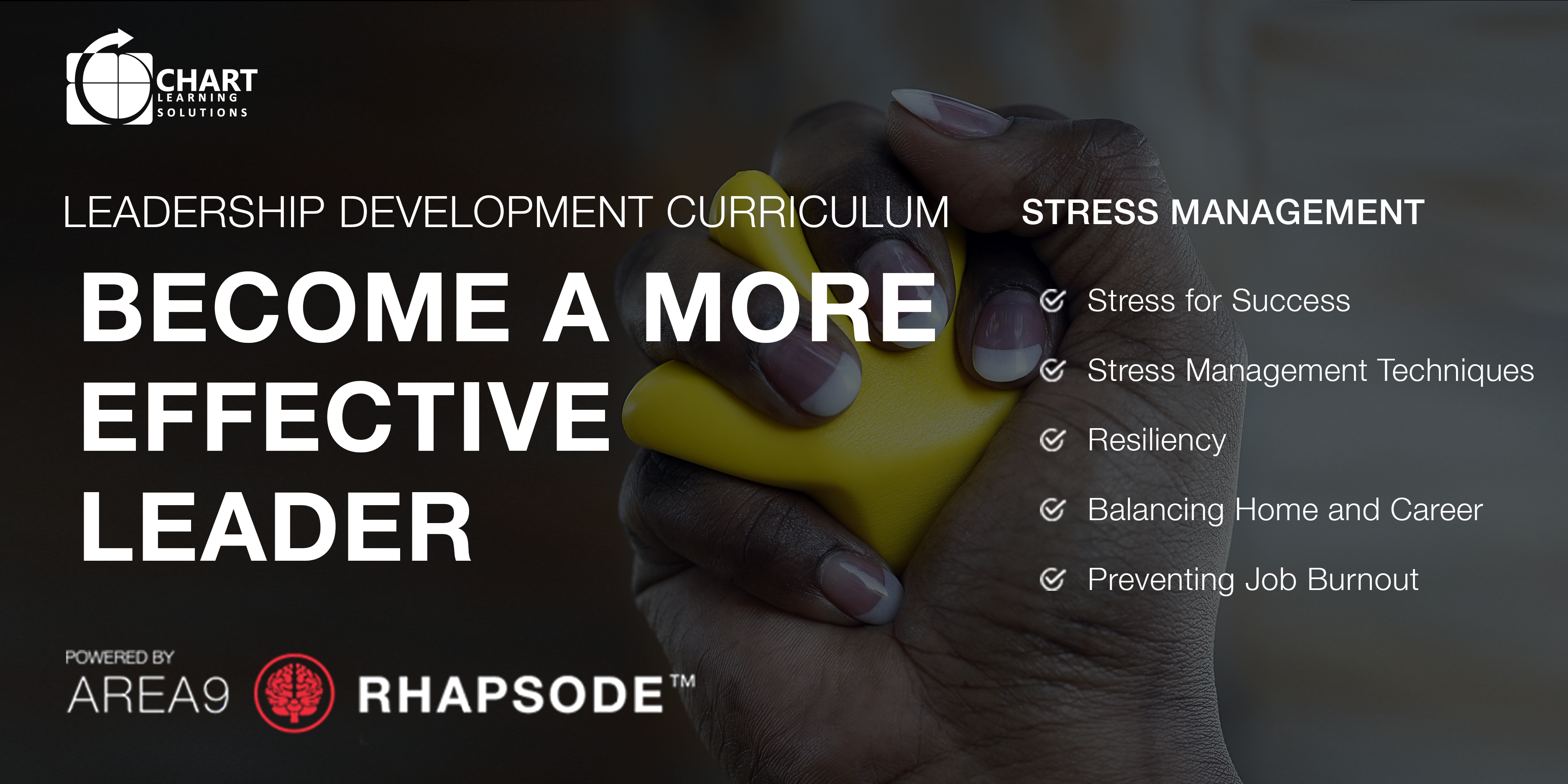 Area9 Lyceum is committed to helping people reach their full potential. Our adaptive learning technology is grounded in scientific research and twenty-five years' experience; serving over 30 million learners across hundreds of subject areas, gathering billions of data points.
Experience adaptive learning for yourself! Complete the form below to be instantly redirected to Area9 Rhapsode™ where you will have access to the Stress Management for Leaders course from the Leadership Development Curriculum, developed in collaboration with Chart Learning Solutions.
In this course you will learn:
Stress for Success: Know the definition of stress, understand the positive and negative influences of stress, recognize the effects of long-term unresolved stress, pinpoint common causes of work distress, identify individuals with the highest risk of distress, understand the long-term effects of stress, know the physical, emotional, and structural symptoms of stress, identify typical unhealthy coping strategies of dealing with stress, and implement seven strategies that turn stress into an energy for success
Stress Management Techniques: Understand the three legs of stress management, know the vicious cycle of stress, apply seven techniques for managing mental stress, employ seven ways to reduce chemical stress, implement four ways to reduce structural stress, and employ strategies to avoid the accumulative effects of stress through balance
Resiliency: Identify qualities of resilient people, apply ten characteristics of emotional resilience, implement five techniques for building resiliency at home and/or in the workplace, and employ answers to nine questions about increasing resilience as a way of life
Balancing Home and Career: Understand the challenges of work-life balance, apply ten suggestions for balancing home and career, and implement strategies for balancing the eight areas of a well-balanced life
Preventing Job Burnout: Understand the definition, symptoms, causes, and risk factors of job burnout, apply 14 ways to prevent or eliminate job burnout, employ the relaxation response for stress reduction, and apply five ways to support your immunity and well-being


Interested in learning more about:
Sharing this and other adaptive courses with your team...

Additional language translation options for this and other courses...

What Learning Management System (LMS) integration is available...