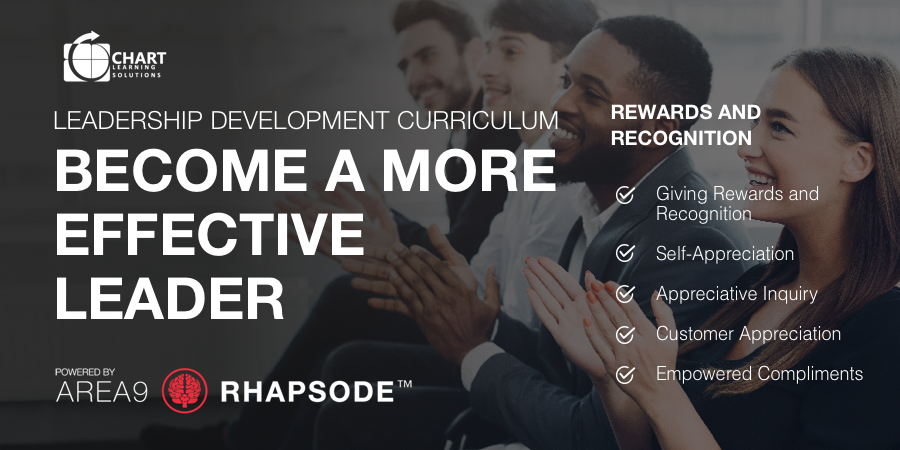 Area9 Lyceum is committed to helping people reach their full potential. Our adaptive learning technology is grounded in scientific research and twenty-five years' experience; serving over 30 million learners across hundreds of subject areas, gathering billions of data points.
Experience adaptive learning for yourself! Complete the form below to be instantly redirected to Area9 Rhapsode™ where you will have access to the Rewards and Recognition course from the Leadership Development Curriculum, developed in collaboration with Chart Learning Solutions.
In this course you will learn:
Giving Rewards and Recognition: Know the single greatest motivator for high-performance, understand the difference between rewards and recognition, their importance in the workplace, create a peer-to- peer recognition culture, and give formal and informal rewards and recognition
Self-Appreciation: Understand the benefits of self-appreciation for reclaiming happiness, apply 18 tried- and-true methods for building a rewarding, bountiful life
Appreciative Inquiry: Identify a process that enables faster, positive change, understand the core principles of appreciative inquiry, apply a five-stage model of appreciative inquiry, and identify conditions necessary for success using appreciative inquiry
Customer Appreciation: Understand the importance of a customer appreciation programs, apply strategies for showing customer appreciation, and write customer appreciation letters
Empowered Compliments: Understand the power of compliments to transform your world, give empowered compliments, know how to receive a compliment, apply steps to create an Empowered Compliment Day, and write an empowered Thank- You note
Interested in learning more about:
Sharing this and other adaptive courses with your team...

Additional language translation options for this and other courses...

What Learning Management System (LMS) integration is available...