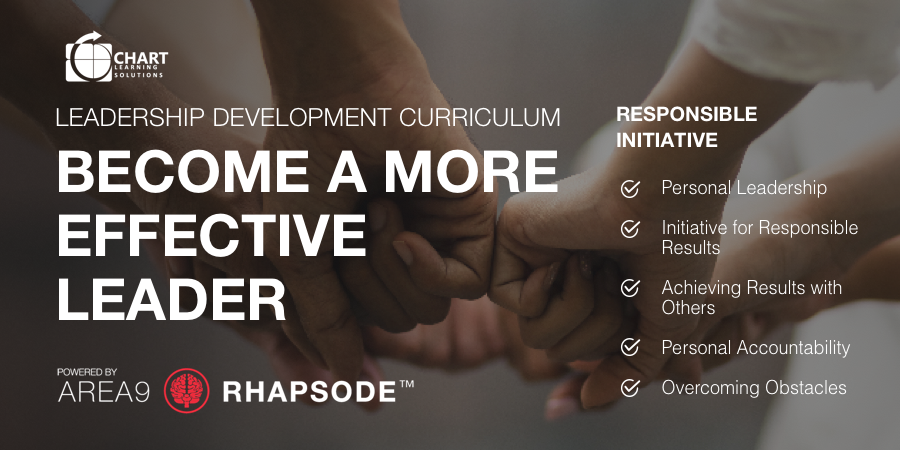 Area9 Lyceum is committed to helping people reach their full potential. Our adaptive learning technology is grounded in scientific research and twenty-five years' experience; serving over 30 million learners across hundreds of subject areas, gathering billions of data points.
Experience adaptive learning for yourself! Complete the form below to be instantly redirected to Area9 Rhapsode™ where you will have access to the Responsible Initiative course from the Leadership Development Curriculum, developed in collaboration with Chart Learning Solutions.
In this course you will learn:
Personal Leadership: Identify opportunities to lead a shared vision, implement the four stages of personal leadership vision, and get unstuck
Initiative for Responsible Results: Know the importance of taking responsible initiative, adopt five criteria for evaluating your initiative's worth, achieve balanced flexibility, follow the initiative cycle, apply personal attributes for responsible initiative, and implement ways to go above and beyond
Achieving Results with Others: Apply the benefits of synergy, work effectively in a team, implement six guidelines for getting others to Help you, become an effective team member, know how to manage up, and hold others accountable for results
Personal Accountability: Learn the definition of personal accountability, apply the ultimate benefit of accountability, and implement the four stages of the Victim Cycle, the Victor Cycle, and the Personal Accountability cycle
Overcoming Workplace Barriers: Apply 13 strategies for overcoming internal and external barriers to achievement, implement tactics for dealing with soft and hardball office politics or games, and employ nine ways to create positive game plans for career success
Interested in learning more about:
Sharing this and other adaptive courses with your team...

Additional language translation options for this and other courses...

What Learning Management System (LMS) integration is available...