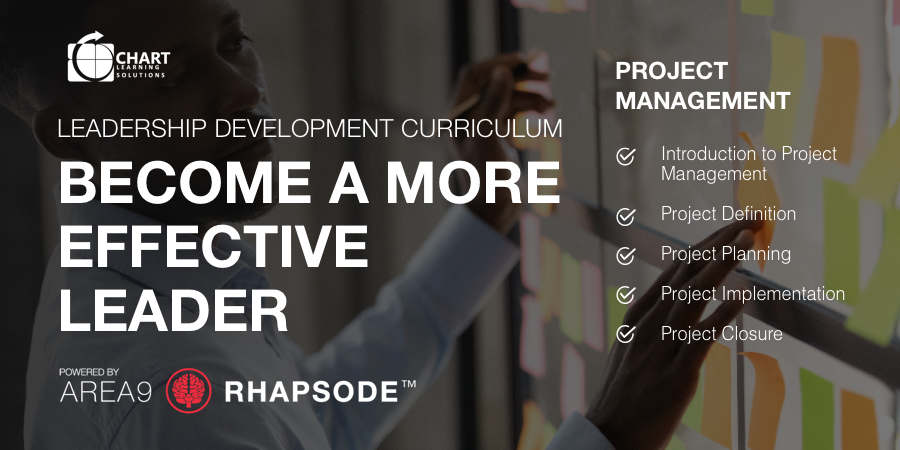 Area9 Lyceum is committed to helping people reach their full potential. Our adaptive learning technology is grounded in scientific research and twenty-five years' experience; serving over 30 million learners across hundreds of subject areas, gathering billions of data points.
Experience adaptive learning for yourself! Complete the form below to be instantly redirected to Area9 Rhapsode™ where you will have access to the Project Management course from the Leadership Development Curriculum, developed in collaboration with Chart Learning Solutions.
In this course you will learn:
Introduction to Project Management: Know key definitions used in project management, apply universal project success criteria, understand suggestions for successful project delivery, apply the four phases of project management, and understand responsibilities and attributes of effective project managers
Project Definition: Understand important project management terminology, write a project definition, choose the core project team, and set the project rules
Project Planning: Learn the three components of a project plan, create a work breakdown structure, define "work packages," sequence work into a network diagram, understand common diagramming techniques, and apply three methods for estimating budgets
Project Implementation: Know the PM's responsibilities, conduct a successful launch, apply 10 tips for leading project success, know to control work progress, monitor performance in four ways, negotiate for resources, and apply five strategies for resolving conflict
Project Closure: Understand the importance of project closure, apply nine steps for successfully closing a project, understand the contents of a final evaluation report, apply tips for project assessment, write team member reviews, and organize the written report
Interested in learning more about:
Sharing this and other adaptive courses with your team...

Additional language translation options for this and other courses...

What Learning Management System (LMS) integration is available...