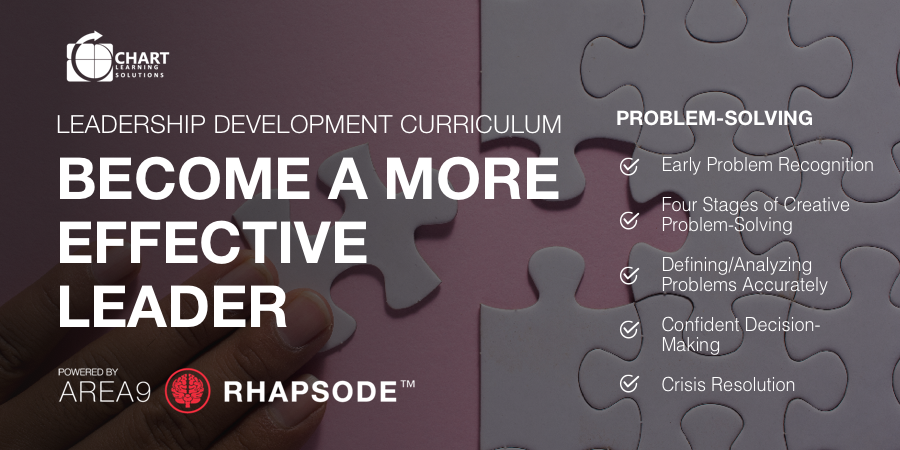 Area9 Lyceum is committed to helping people reach their full potential. Our adaptive learning technology is grounded in scientific research and twenty-five years' experience; serving over 30 million learners across hundreds of subject areas, gathering billions of data points.
Experience adaptive learning for yourself! Complete the form below to be instantly redirected to Area9 Rhapsode™ where you will have access to the Problem-Solving course from the Leadership Development Curriculum, developed in collaboration with Chart Learning Solutions.
In this course you will learn:
Early Problem Recognition: Know the definition of a problem and problem-solving, understand the 80-20 Iceberg Rule, recognize early symptoms of common problems, conduct gap analysis, apply four techniques for problem recognition data collection, implement three steps for initiating a formal problem recognition process, and apply steps for moving forward
Four Stages of Creative Problem-Solving: Understand effective problem SOLVER behaviors and attitudes, apply the four stages of a systematic problem-solving process, and implement 10 creative problem-solving techniques
Defining and Analyzing Problems: Accurately Understand the importance of accurate problem-solving, accurately define a problem in nine ways, and analyze and identify root causes
Confident Decision-Making: Make better decisions more quickly, apply the four stages of decision-making, implement and monitor an action plan, discover your decision-making style, and implement logical and intuitive decision-making techniques
Crisis Resolution: Understand the difference between a crisis and a problem, know the main causes of crisis, identify characteristics of organizational crisis, apply six steps to crisis resolution, and use crisis modeling to increase crisis efficiency
Interested in learning more about:
Sharing this and other adaptive courses with your team...

Additional language translation options for this and other courses...

What Learning Management System (LMS) integration is available...