Jazz Pharmaceuticals, through their world-class GW Cannabinoid Platform, is the leader in cannabinoid science, and passionately believe in the therapeutic and breakthrough potential of cannabis-based medicines.
Over more than two decades, GW Pharmaceuticals, now a part of Jazz Pharmaceuticals, established a world-leading cannabinoid science platform to develop a deep, innovative pipeline of early and late-stage cannabinoid product candidates and highly specialized growing and manufacturing expertise.
Experience the cannabinoid science platform and the power of adaptive learning by exploring the Pillars of Evidence and Science of Cannabinoids trial modules, offered by Area9 Lyceum and Jazz Pharmaceuticals.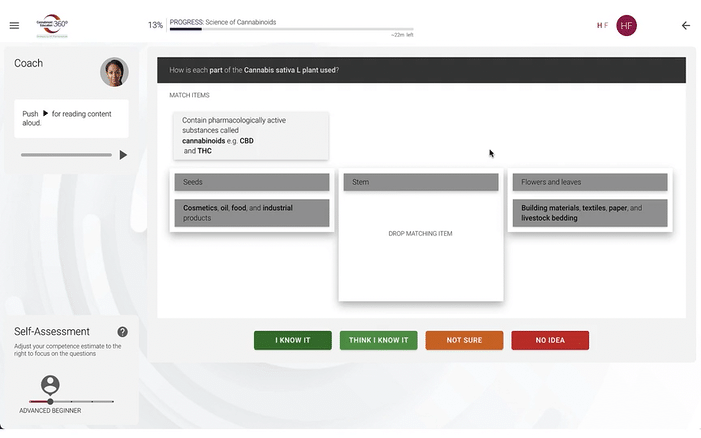 ---
Area9 Lyceum
Our approach is grounded in scientific research and twenty five years' experience, serving millions of learners, gathering billions of data points, across hundreds of subjects.
We believe that technology is only powerful when designed to work for and with people; it is not an end in itself. Teachers, mentors and learners are not going to be replaced by technology – they are going to be complemented and accelerated. We are passionate about people fulfilling their potential.
Whether you are an educator, corporation or content publisher, Area9 Lyceum can help enable an interactive learning experience through a range of tools and services – making your content exceptionally agile, relevant and actionable for any learner.
---
Jazz Pharma + Cannabinoid Education 360
Cannabinoid Education 360 is an online platform of educational resources that deliver evidence-based, relevant and balanced information. Our ambition is to provide a full 360-degree perspective on what is really known about the science of cannabinoids, the research behind cannabis-based medicines, and the laws and policy frameworks that regulate them. We want to help dispel any myths and provide clarity around this important, yet complex field of medicine.
Jazz Pharmaceuticals is focused on developing life-changing medicines for people with serious diseases — often with limited or no options — so they can live their lives more fully. By transforming biopharmaceutical discoveries into novel medicines, they are working to give people around the world the opportunity to redefine what's possible – to make the "small wins" big again.