The evolution of a digitalized workplace calls for digital solutions. When change is a constant and agility is key, the knowledge needed to navigate complexity must be second nature.
Intuition, a leader in global learning solutions, partners with Area9 Lyceum to further maximize your potential and build your digital future with adaptive learning technology. This technology is highly effective in increasing learning, retention and comprehension, as seen in recent case studies.
At its core, Intuition accelerates human performance through knowledge sharing solutions.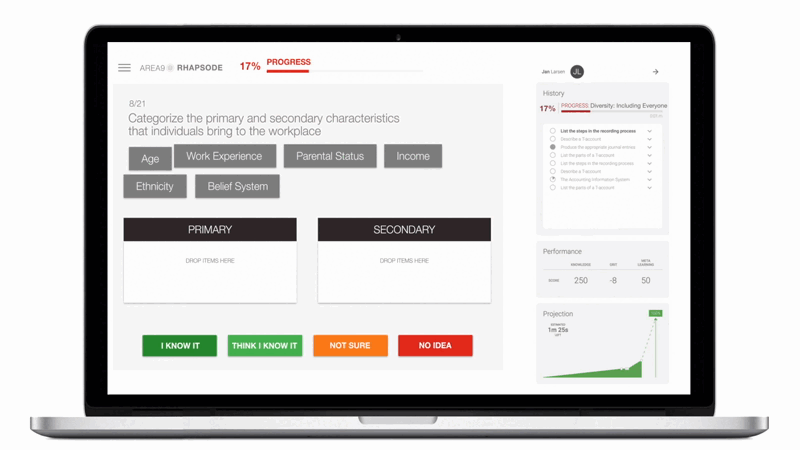 ---
Intuition
Intuition is a leading global knowledge solutions company. With offices located worldwide, we have developed and deployed our award-winning products and services to many of the world's leading corporate and public sector organizations for over 30 years. We help your business use knowledge effectively.
Our products engage, motivate, and inspire your employees on their learning paths. By committing to the highest standards in our products and services, we deliver solutions that help achieve and exceed your company goals. Learn more about Intuition.

---
Area9 Lyceum
Our approach is grounded in scientific research and twenty years' experience, serving millions of learners in hundreds of subject areas, gathering billions of data points.
We believe that technology is only powerful when designed to work for and with people; it is not an end in itself. Teachers, mentors and learners are not going to be replaced by technology – they are going to be complemented and accelerated. We are passionate about people fulfilling their potential.
Whether you are a publisher, educator or corporation, Area9 Lyceum can help enable an interactive learning experience through a range of tools and services – making your content exceptionally agile, relevant and actionable for any learner.