Infomedica works with leading medical societies to develop educational solutions for the global healthcare community.
For healthcare professionals working in the field of diabetes, the InfoDiabetes platform is the solution to remain informed. This comprehensive, up-to-date source is now available via the Area9 Rhapsode™ adaptive learning platform, designed for healthcare professionals.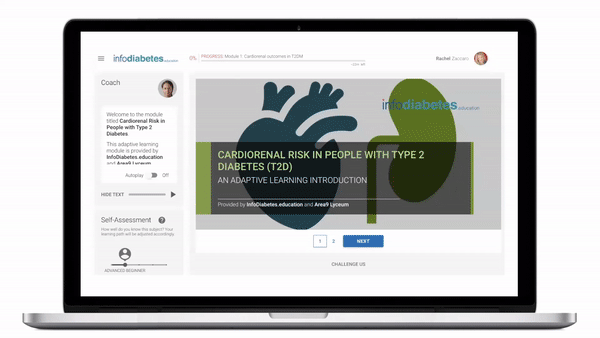 ---
Area9 Lyceum
Our approach is grounded in scientific research and twenty five years' experience, serving millions of learners, gathering billions of data points, across hundreds of subjects.
We believe that technology is only powerful when designed to work for and with people; it is not an end in itself. Teachers, mentors and learners are not going to be replaced by technology – they are going to be complemented and accelerated. We are passionate about people fulfilling their potential.
Whether you are an educator, corporation or content publisher, Area9 Lyceum can help enable an interactive learning experience through a range of tools and services – making your content exceptionally agile, relevant and actionable for any learner.
---
Infomedica
Infomedica has been developing medical education programs for over 25 years and is a leader in providing e-learning programs to physicians and healthcare professionals globally. Their services include the development and management of educational portals, programs and products with special emphasis on localization and international distribution. Their expert team partners with top medical experts and the many major national and international medical societies to provide innovative and high-quality continuing medical education.