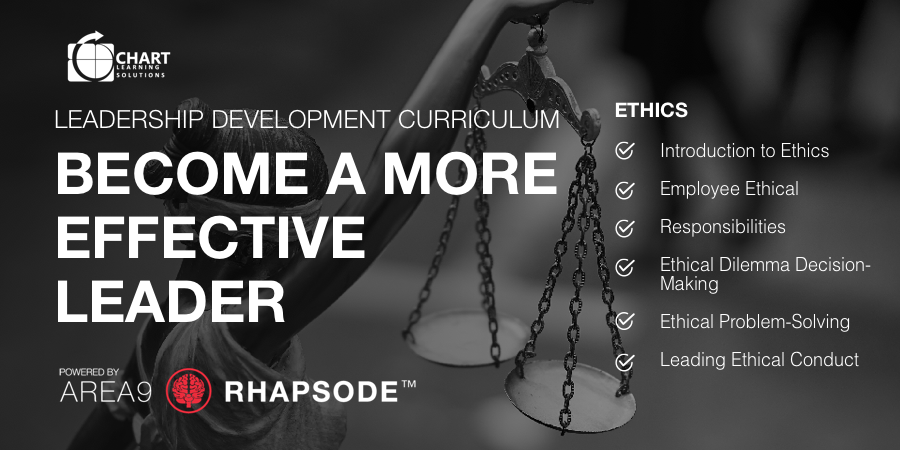 Area9 Lyceum is committed to helping people reach their full potential. Our adaptive learning technology is grounded in scientific research and twenty-five years' experience; serving over 30 million learners across hundreds of subject areas, gathering billions of data points.
Experience adaptive learning for yourself! Complete the form below to be instantly redirected to Area9 Rhapsode™ where you will have access to the Ethics course from the Leadership Development Curriculum, developed in collaboration with Chart Learning Solutions.
In this course you will learn:
Introduction to Ethics: Understand the definition, focus, and importance of ethics in business, understand the origins of ethical values and conduct, identify the complexities of ethical dilemmas, comprehend five ethical philosophies used to justify behaviors, and know the three top causes of unethical business behaviors
Employee Ethical Responsibilities: Know three employee rights, apply lessons from an "Ethics Hall of Shame," understand your ethical "circle of influence," and identify 14 employee ethical responsibilities
Ethical Dilemma Decision-Making: Learn three philosophical approaches for resolving ethical dilemmas, and apply seven steps to ethical dilemma decision-making
Ethical Problem-Solving: Understand four common ethical business problems, implement four stages to ethical problem solving, and know the steps for whistle-blowing
Leading Ethical Conduct: Know the three most pervasive ethical business misconducts, identify six common excuses for unethical behavior, understand the components of ethical conduct, apply 11 guidelines for leading ethical conduct, and implement the Three R's for leading ethically
Interested in learning more about:
Sharing this and other adaptive courses with your team...

Additional language translation options for this and other courses...

What Learning Management System (LMS) integration is available...