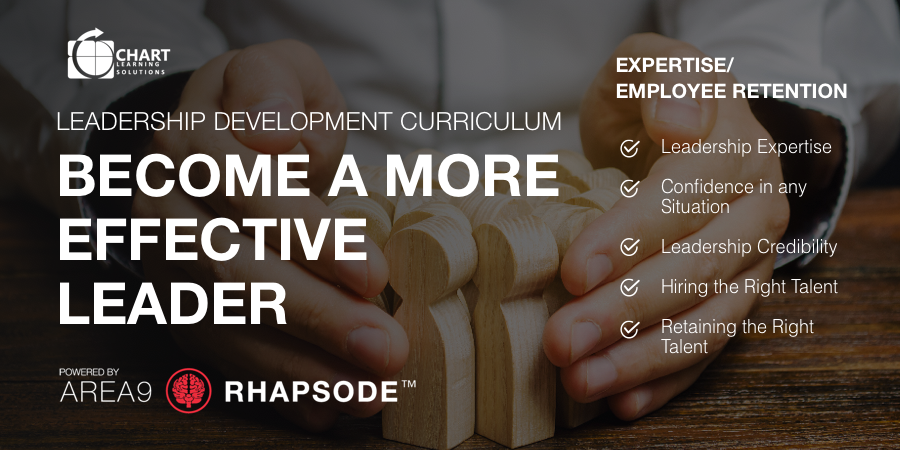 Area9 Lyceum is committed to helping people reach their full potential. Our adaptive learning technology is grounded in scientific research and twenty-five years' experience; serving over 30 million learners across hundreds of subject areas, gathering billions of data points.
Experience adaptive learning for yourself! Complete the form below to be instantly redirected to Area9 Rhapsode™ where you will have access to the Employee Retention course from the Leadership Development Curriculum, developed in collaboration with Chart Learning Solutions.
In this course you will learn:
Depth and Breadth of Knowledge: Self-examine your knowledge base, identify opportunities for development in depth of knowledge "categories," and flag opportunities for expanding your breath of knowledge
Confidence in any Situation: Examine Strength's Theory, know five characteristics of a strength, build strengths' confidence for any situation in four ways, and apply strategies for managing weaknesses
Leadership Credibility: Know why credibility is the core of effective leadership, understand how credibility is earned and maintained, and know what to do when your credibility as a leader is challenged or diminished
Hiring the Right Talent: Understand the costs of poor hiring practices, utilize a hiring checklist, know the elements of an effective job description, know six essential legal requirements, ask six self-questions before making an offer, apply guidelines for running the interview, and evaluate a job applicant's suitability and eligibility
Retaining the Right Talent: Apply a five-part system to R.E.T.A.I.N employees, understand the bottom line for employee retention, and implement the single greatest motivator for workplace performance
Interested in learning more about:
Sharing this and other adaptive courses with your team...

Additional language translation options for this and other courses...

What Learning Management System (LMS) integration is available...