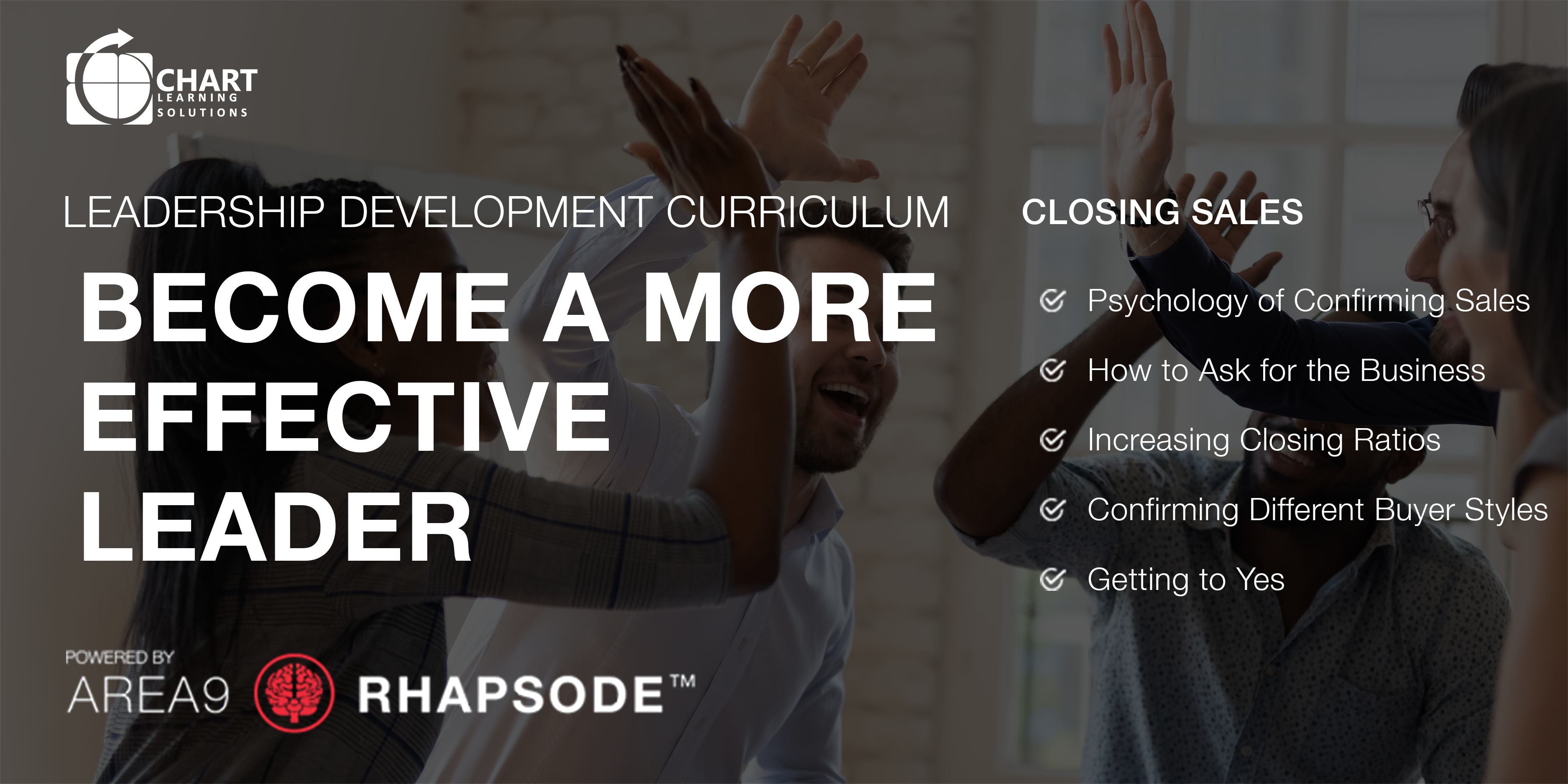 Area9 Lyceum is committed to helping people reach their full potential. Our adaptive learning technology is grounded in scientific research and twenty-five years' experience; serving over 30 million learners across hundreds of subject areas, gathering billions of data points.
Experience adaptive learning for yourself! Complete the form below to be instantly redirected to Area9 Rhapsode™ where you will have access to the Closing and Confirming Sales course from the Leadership Development Curriculum, developed in collaboration with Chart Learning Solutions.
In this course you will learn:
Psychology of Confirming Sales: Understand the definition of selling and objections, know the origins of objections, dispel four common myths of objections, manage the "Three D's" of objections--doubt, disruption and decisions, understand the role of values in selling, and implement five psychological strategies for resolving concerns.
How to Ask for the Business: Understand key concepts in asking for the business, implement ten proven methods and scripts for confirming more sales, and test your comprehension of confirming approaches
Increasing Closing Ratios: Understand the power of knowing your closing ratios, apply eight types of closing ratios to improve sales results, know how to calculate your closing ratios, implement 10 strategies for increasing your closing ratios, and examine weak links in your sales process
Confirming Different Buyer Styles: Understand the four different buying styles, describe how to identify and find the different styles, understand the effects of stress on buying style decisions, apply strategies for selling to each style, test your understanding of buyer styles, describe the buyer style matrix to develop behavioral flexibility and confirm more sales
Getting to Yes: Know the ABC's of confirming business, understand the difference between nature and nurture when selling, employ an equipment checklist for getting to yes, know how to identify buying signals, implement seven strategies for getting to yes, apply the "Pyramid to Yes" to stack more yeses, and test your knowledge in two sales scenarios.
Interested in learning more about:
Sharing this and other adaptive courses with your team...

Additional language translation options for this and other courses...

What Learning Management System (LMS) integration is available...