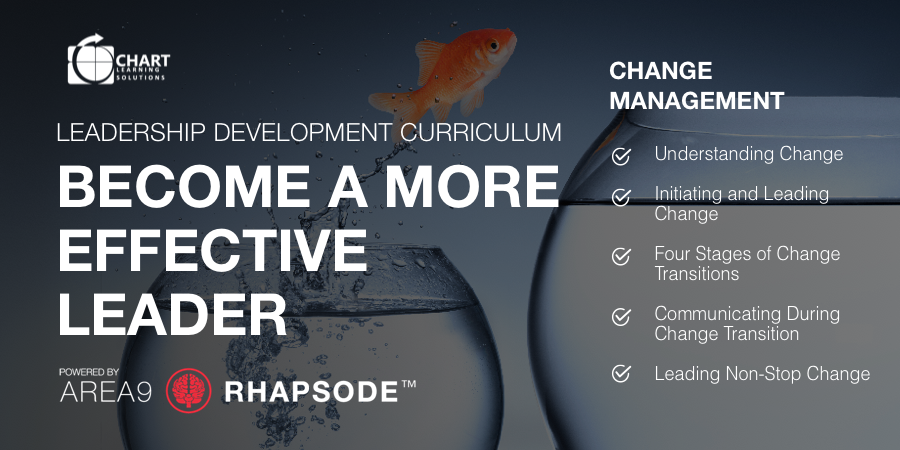 Area9 Lyceum is committed to helping people reach their full potential. Our adaptive learning technology is grounded in scientific research and twenty-five years' experience; serving over 30 million learners across hundreds of subject areas, gathering billions of data points.
Experience adaptive learning for yourself! Complete the form below to be instantly redirected to Area9 Rhapsode™ where you will have access to the Change Management course from the Leadership Development Curriculum, developed in collaboration with Chart Learning Solutions.
In this course you will learn:
Understanding Change: Understand the difference between leading and managing change, the difference between change and transition, know the hierarchical roles and responses to change, and apply general guidelines for effective change transitions
Initiating and Leading Change: Know the primary role of leaders, implement six targets for change, apply steps for sponsoring change, and understand five criteria for achieving worthwhile results
Four Stages of Change Transitions: Apply a model for leading and managing the four stages of change transitions and the tasks associated with each stage
Communicating Through Change Transitions: Understand the dynamics of human nature and change, set a climate for cooperation, know the four ways people leave their comfort zones, and apply tasks for communicating in each of the change transition stages
Leading Non-Stop Change: Implement strategies for leading non-stop simultaneous change, understand how to anticipate and plan for obstacles, and build trust
Interested in learning more about:
Sharing this and other adaptive courses with your team...

Additional language translation options for this and other courses...

What Learning Management System (LMS) integration is available...