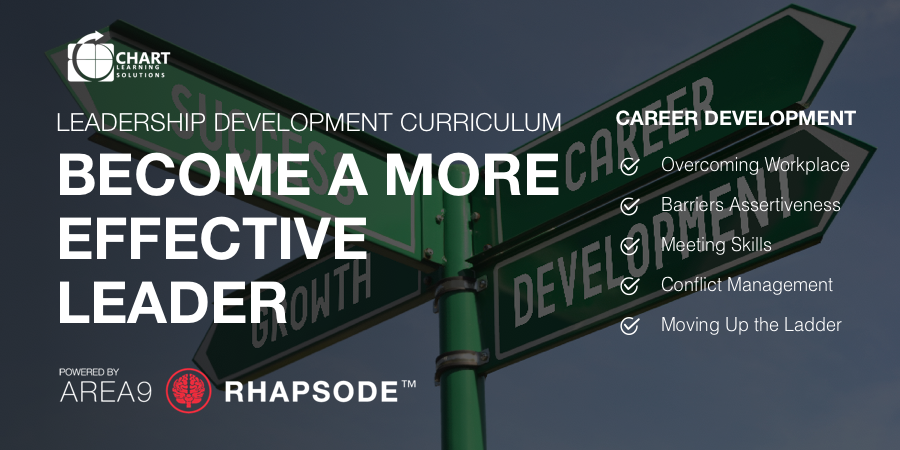 Area9 Lyceum is committed to helping people reach their full potential. Our adaptive learning technology is grounded in scientific research and twenty-five years' experience; serving over 30 million learners across hundreds of subject areas, gathering billions of data points.
Experience adaptive learning for yourself! Complete the form below to be instantly redirected to Area9 Rhapsode™ where you will have access to the Career Development course from the Leadership Development Curriculum, developed in collaboration with Chart Learning Solutions.
In this course you will learn:
Overcoming Workplace Barriers: Know how to overcome internal and external barriers to achievement, apply tactics for dealing with soft and hardball office politics or games, and create positive game plans for career success
Effective Assertiveness Skills: Understand the role of assertiveness in career success, recognize the pitfalls of aggressive or passive communication, and implement appropriate assertive language and behaviors to create win-win outcomes
Productive Meetings in Half the Time: Apply the four reasons for holding a meeting, run productive meetings, become an effective meeting participant, and implement time-saving tips for getting results in half the time
Conflict Management: Know the root cause of all conflict, apply five conflict management strategies, understand potential negative outcomes of each strategy, implement steps to manage or resolve conflict, and apply effective steps for conducting difficult conversations
Moving Up the Ladder: Apply on-going strategies for promotability, understand the four phases of a career path, navigate possible career detours, apply eight types of promotional power, and package your skills for promotion
Interested in learning more about:
Sharing this and other adaptive courses with your team...

Additional language translation options for this and other courses...

What Learning Management System (LMS) integration is available...