Join us for our session, "Piano, Prodigies, and The Power of Practice" with Area9 Lyceum's Dr. Michael Noble on Wednesday, May 18th, 2022 (8:00 AM EST). If you're curious about how to scaffold deliberate learner practice at scale, then you'll enjoy this discussion on adaptive learning. Inquiry-based? Yes. Actual learner data? Yes. Practical, portable takeaways? Yes and yes! Data isn't for dashboards; it should change the learning experience.
For more details on this immersive 3-day event and the organization, visit the ATD website.
Come say hello to our team at booth #925!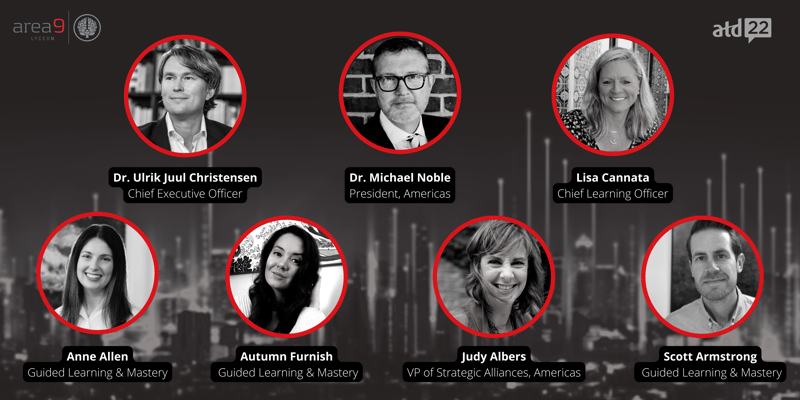 From top left: Dr. Ulrik Juul Christensen (Area9 Lyceum CEO), Dr. Michael Noble (President, Americas), Lisa Cannata (Chief Learning Officer), Anne Allen (Guided Mastery & Learning), Autumn Furnish (Guided Learning & Mastery), Judy Albers (VP of Strategic Alliances, Americas), and Scott Armstrong (Guided Learning & Mastery).
Not only are we speaking, but we are exhibiting too! Chat with our team and experience adaptive learning for yourself with interactive resources and giveaways available at our booth. You can view the expo floor plan and exhibitor directory on the ATD website.
What is Area9 Lyceum adaptive learning?
Our adaptive learning technology is based on scientific research and more than 25 years of experience; we've mentored over 30 million learners in hundreds of subject areas, collecting billions of data points in the process.
We believe that technology is only powerful when it works for and with people. Teachers, mentors and learners should not be replaced by technology, but should receive the greatest possible support in their work.
Whether you're an educational institution, educator, business or publisher, Area9 Lyceum can help you transform the learning experience through a range of tools and services - making your content adaptive, relevant and individual to each learner.
Interested in trying adaptive learning for yourself? Keep scrolling to explore the latest additions to our curated Collections library or browse all course offerings on our website.