The Project
American Friends of SMK and Area9 Lyceum have partnered to increase art knowledge with an adaptive learning course on the Danish Golden Age.
Access to lifelong learning is being driven by rapid technological developments and can help building knowledge across a wide range of topics. We are pleased to provide access to art and art history with this collaborative course, using adaptive learning technology. This technology can help improve learning at all levels, regardless of each individual's level of knowledge and background.
American Friends of SMK raises awareness and appreciation of the collection and the special expertise that characterize Statens Museum for Kunst (National Gallery of Denmark), encourages exchange of art, skills and knowledge between SMK and American institutions, and fosters support for SMK globally.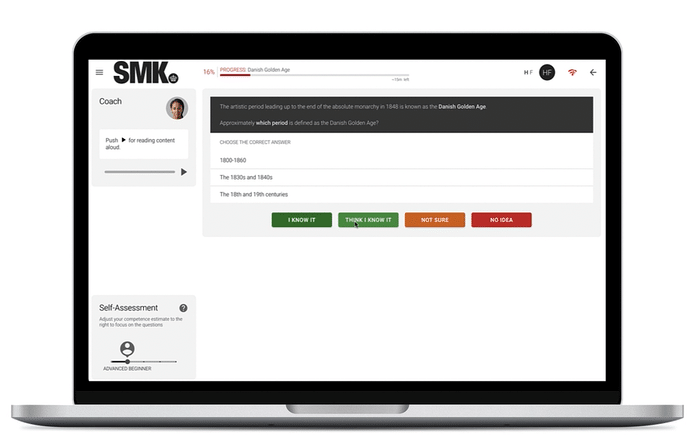 ---
Area9 Lyceum
Our approach is grounded in scientific research and twenty five years' experience, serving millions of learners, gathering billions of data points, across hundreds of subjects.
We believe that technology is only powerful when designed to work for and with people; it is not an end in itself. Teachers, mentors and learners are not going to be replaced by technology – they are going to be complemented and accelerated. We are passionate about people fulfilling their potential.
Whether you are an educator, corporation or content publisher, Area9 Lyceum can help enable an interactive learning experience through a range of tools and services – making your content exceptionally agile, relevant and actionable for any learner.
---
SMK - The National Gallery of Denmark
SMK - The National Gallery of Denmark is the largest art museum in Denmark and is also officially the so-called 'main museum' for visual art in the country. SMK owns the nation's largest art collection, comprising approximately 260,000 works of art. The collection was originally founded as the royal collection, meaning that it was the private property of the Danish kings, but with the introduction of democracy in Denmark in the mid-1800s, the kings' art collection was given to the people.That gift eventually became Statens Museum for Kunst (SMK).